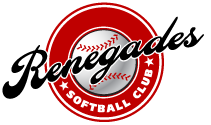 Hey Renegades,
I hope everyone is looking forward to the upcoming softball season as much as I am. This newsletter will be the first of what I hope will be at least three over the 2014 season. I think the biggest problem with our communication is that as one of the biggest clubs in Softball Leinster, we try to do as much as possible and that requires us to send out lots of emails notifying you about our upcoming events. While the emails are good, it is helpful to have our website updated with all the info. This year we are going to continue to use Facebook, but also use our website as well. Our website has been updated with the latest info and this newsletter will have all the info about what's going on in the club, in Softball Leinster and anything outside that might be pertinent.
First up: Team Selection and Recruiting
Let's first talk about what is the most important to everyone at this time of year: team selection and recruiting. Many hours and many emails have passed through our committee and the captains trying to sort out the best way to select teams and recruit new players. Each team minimally needs 6 guys and 4 girls, but as we all know, life happens and it is always good to have a few spare players throughout the season. This year, we are in a better position than last year, with all three teams playing on different nights, now each team can draw from the other two teams when they are short players. I'm not going to get into specifics about the exemption rules in SL, because I don't want to be writing this when the season starts, but suffice it to say that if needed we will be able to borrow players covering all teams for the entire season. Captains should be narrowing down their selections and announcing their teams in the next week or so. More players are always needed, especially female players so bring down your friends. Most players will be returning to the teams they played with last year, and if not your new captain should contact you and ask you to play with the new team.
Next up: UCD IV Blitz, SOS Blitz and Start of the Season
Playing more games, whether it is scrimmages, blitzes or just pickup games is the best way to get ready for the season. There are two blitzes coming up before the start of the season. The first is the Dublin IV blitz at UCD on April 5th and 6th. It is a two day blitz and getting a team out to that would be great. It might mean that we won't have training on April 6th but the idea here is that we'd get everyone who turns up as much playing time as possible and team entry is only €100, so it would literally be €5 per person.
The second blitz is the Start of the Season Blitz being held on April 12th. This one is a bit more important as we'll get a chance to see the other teams in SL as well. We are going to try and have two teams out to this blitz. It costs €10 per person with proceeds going to support the Irish National Squad. The two teams with the most players attending will form the basis for the two teams entered, those captains will get the opportunity to play around with their teams. The third team will fill out the missing players. It is usually a great blitz and everyone has a great time with all funds supporting the Irish Softball National Squad.
The season usually starts the last week of April, but occasionally Easter falls awkwardly on the calendar and we can't squeeze two games in between the bank holiday over Easter and the May bank holiday. This year SL has decided to remedy that by beginning the season on a Tuesday rather than a Monday. Instead of moving the Monday game to Thursday, they decided to push all games out one day;. Monday game to be played on Tuesday, Tuesday game on Wednesday and the Wednesday game on Thursday. So the season starts for the Titans on Tuesday the 22nd of April, the Reds and Beachers the next two days. We won't have any home games that week because Mount Temple will be seeding the pitches.
Clean up: Open Day, Indoor Training and questionnaire
I'd like to thank everyone who came out to our Open Day this past Saturday. It was a wet cold day and while we only had two new players down, we had 16 of us down to train at Mount Temple. While it would be nice to train there more often, because we'd have to pay for the pitches for training at Mount Temple, we've decided to train in St. Annes off Sybill Hill Road. Here is a link to where we train.
Our indoor training sessions at Mount Temple started in January and ends today. We've had an average of 10-12 people out to most sessions and I think it has been a good experience for all those involved. Thanks to Alan Lenehan (Jnr.) for organising it.
I also want to thank everyone who participated in our questionnaire. If you haven't filled it out yet here is a link. I'd like to share some of the results from that questionnaire.
95% of the responses thought that we have the right amount of socialistaion or that we should socialise more. Only one person thought we should socialise less.
95% of all people would play up or down to help other teams within the club. The one person who couldn't, lives in Limerick and didn't think he could travel up two nights a week.
8 people were looking for the early payment of their subs for a €10 discount. Contact Jnr. about that ASAP. Cutoff is March 31st.
6 people would like a new shirt. (Email me directly and we'll get that ordered.)
10 people are looking for Renegades Hats. (Again contact me I have the first batch coming in soon.)
Finally before I end this pre-season newsletter, Our website needs content. If you would like to be a contributor please let me know. Hope to see you on the diamond soon.
~ Jonathan Spielberg
Renegades Softball Club President